"Rock Ledge"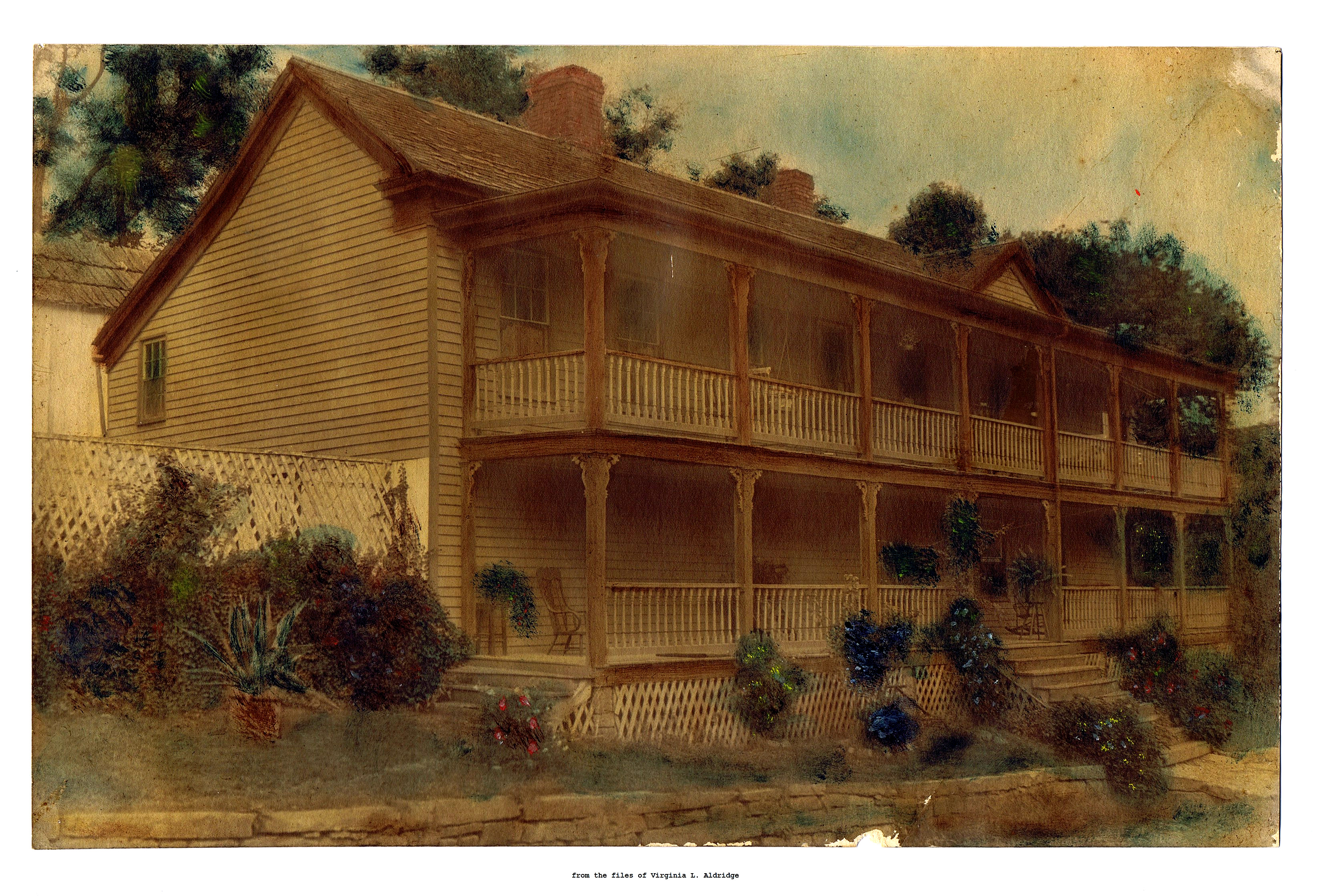 The Aldridges of Rock Ledge
Hawesville, Hancock County, Kentucky
Compiled by
Virginia L. Aldridge
Squire W. Aldridge was born 23 May 1846 in Kingswood, Breckinridge County, Kentucky. The son of John Aldridge and Charity Hinds, he was the fifth of eight children born to this couple.
John Aldridge was the third child of Nathaniel Oldridge and Mary Butler who married in Nelson County, Kentucky 14 June 1810.
John Aldridge was killed 1 March 1859 in a gunfight in Hawesville, Hancock County, Kentucky. This well documented fight was between two rival men who had been exchanging insults for a time and things came to a head on this date. Helping his friend in this fight caused John Aldridge to lose his life and leave his family in poverty.
Charity Hinds Aldridge was the daughter of George Alexander Hinds and Mary Hinkle. She married John Aldridge, most likely in Breckinridge County, Kentucky where their families lived. No record of the marriage has been found. Their first child was born circa 1837 and is not documented with the family on any census after 1850.
Squire W. Aldridge married Hannah Gillians on 17 March 1871 Hawesville, Hancock County, Kentucky. To this union were born eleven children, three of whom died in infancy or childhood. These three children and some of the adult children are buried with their parents in the family plot in Memory Gardens Cemetery, Hawesville, Hancock County, Kentucky.
Hannah Gillians was born 13 July 1851 in West Rainton, County Durham, England and came to this country 14 July 1853 aboard the Briseis, arriving at the Port of Philadelphia. She is the daughter of Joseph Gillians and Mary Ann Stoker who were married 21 October 1850 at Parish Church of Pittington, County Durham, England.
Squire W. Aldridge was an industrious man who worked to provide a better life for his mother and siblings, and continued to provide a good life for the family he built with Hannah Gillians. He successfully engaged in the coal business as a dealer and mine operator all of his adult life.
There are many interesting stories about this family that have been passed down by the elders of the family. One story happened during the time of the Civil War.
During the Civil War, there were raiders in Hancock County, Kentucky. We do not know if they were Union or Confederate, for there were both in the county at that time. However, family history relates that the raiders found Squire Aldridge when he was out hunting one day, and took him to their camp. They had him working in their camp and waiting on them. A fellow towns-person came into camp, and on seeing Squire being held by the raiders, remarked to them, "You ought to let that boy go, he's the only support his mother has." The raiders were persuaded to let Squire Aldridge leave. This same story was related to me by two different grandsons of Squire Aldridge. Both grandsons remarked on different occasions, that Squire was the source of this family story.
Another story shows Squire's concern for the happiness of his young children at Christmas time. When his children became old enough to notice the chimney was a bit too narrow for Santa Claus to fit, they questioned Squire about "how could Santa fit down the chimney." So every year Squire hired someone to dismantle the chimney on the roof, to ease Santa's trip and had the chimney replaced after Santa's safe passage.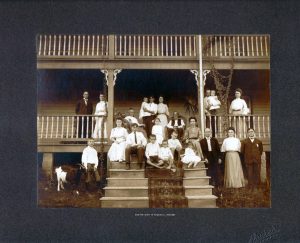 Aldridge Family members circa 1907 Left to right
Porch: Walter Frank Stinnett and his wife Ruth Hinds Aldridge Stinnett, Hannah Gillians Aldridge, Squire Aldridge, Jr. holding Marguerite Aldridge and his wife Stella Marie Birlenbach Aldridge, Squire Aldridge, Sr., Louis C. Aldridge holding Cora Marsha Aldridge and his wife Mildred Conner Aldridge.
Standing with his goat: Charles Cornelius Aldridge. Seated on the steps: Catharyne Marie Aldridge, John Wesley Aldridge, standing between the adults Ruth Wittmer with white ribbons in her hair, Elizabeth Conner Aldridge, wife of Joseph Aldridge. Standing to the right of the steps: Joseph Aldridge, Mary Ann Aldridge Wittmer and her husband Charles Wittmer, parents of Ruth Wittmer.
Three little boys seated on the steps: George Wilber, Francis Louis, and Joseph Conway Aldridge and their sister, Augusta Elizabeth Aldridge. These are the children of Joseph and Elizabeth Conner Aldridge.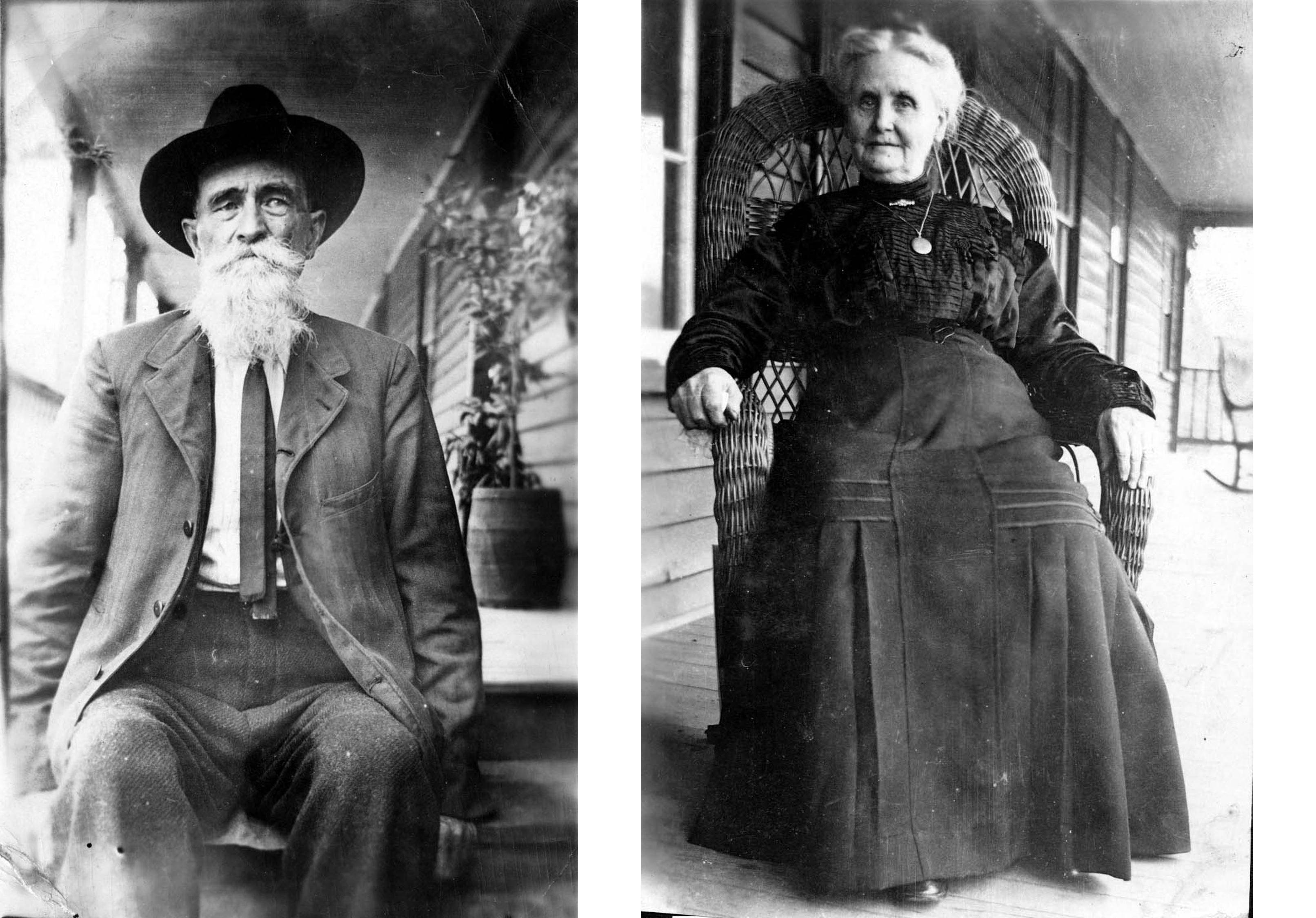 Squire W. Aldridge and Hannah Gillians Aldridge