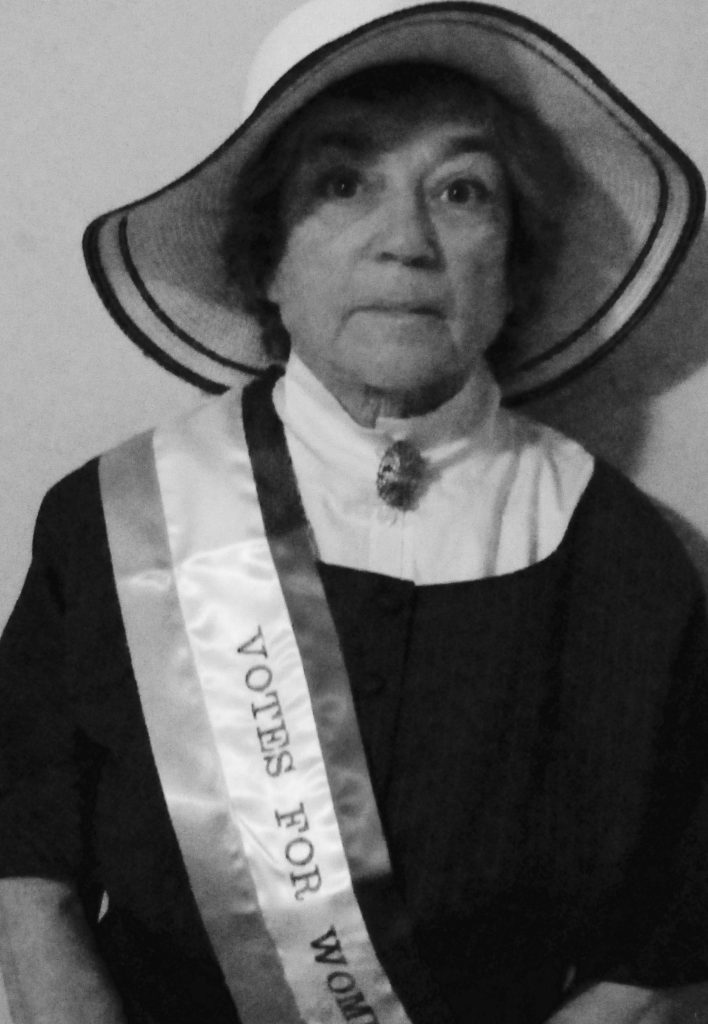 UPDATE, 9 August 2020–Our Virtual Meetings page is up and if you go to it, you'll find a surprise–a bonus meeting taking place on 11 August for all of our friends, visitors and members to enjoy! On Tuesday night you can click on the link to access our meeting featuring a speaker we know you'll enjoy. Maryanne Mathews, who has presented her one-woman plays at Willard Library and TSGS meetings in the past as Mary Todd Lincoln, returns as a suffragist. You won't want to miss her presentation as we observe the 100th anniversary of women's vote in the U.S.
At this writing the state of Indiana is experiencing daily increases in COVID-19 cases. While some businesses and venues have re-opened, they are limiting the number of clientele. Willard Library, where TSGS has been meeting for its entire 40-plus year history, has recently cancelled its annual ghost tours and Better Books Sale as well as public meetings by third-party groups such as TSGS. The programs listed below will go on as scheduled ONLINE ONLY on the dates and times scheduled. It is suggested that you access the program 10-to-20 minutes ahead of time to ensure that your link is working properly.
---
Summer is generally the time when the Tri-State Genealogical Society takes a break to allow for vacation trips and/or research trips (or maybe a combination). With COVID-19 on the rise those of us of a certain age might be reluctant to go out in public, even with a mask. Rest assured that the TSGS Board of Directors, which has met virtually via ZOOM, and in person at a time when we thought the threat of the virus was easing, is hard at work planning programs for the Fall. You will notice some differences, however.
Note the Time Change for Our Meetings
Meeting time has changed to 6:30 p.m. Central time. This new time applies for all meetings going forward. Meeting night will still be the second Tuesday of the month for the foreseeable future.
Willard Library will Enforce Its Restrictions to Protect Individuals' Safety
After being closed to the public back in the Spring, Willard Library has opened its doors to allow a limited number of patrons into the library for limited times, with strict enforcement of masks and safe distancing. It is very likely that some of those restrictions will continue into the Fall and will affect the number of attendees at the TSGS monthly meetings, which begin in September. Only 30 people can occupy the Browning Gallery, and that includes speakers, board members, and Willard Library personnel, as well as guests and members. All who plan to attend are required to register in advance on Willard Library's website (www.willard.lib.in.us/ ), and must arrive no later than five minutes before the meeting to be seated. Walk-ins will be allowed if there are any vacant seats at five minutes before the meeting starts. All attendees must wear their self-provided masks.
Programs/Meetings will be Live-Streamed and Available to View Later
For the first time, TSGS will live-stream meetings and programs, tentatively beginning in September. This will bring the meeting to out-of-town members and to those who prefer not to venture out. More details will follow.
Some of the Programs That Were Cancelled in the Spring are Set for the Fall
The first two programs below were scheduled for this past Spring; the third brings back the Browning Family for a look at the updates on their genealogy website. Depending on the coronavirus situation, any or all of the programs may be virtual only. TSGS will notify you if that's the case.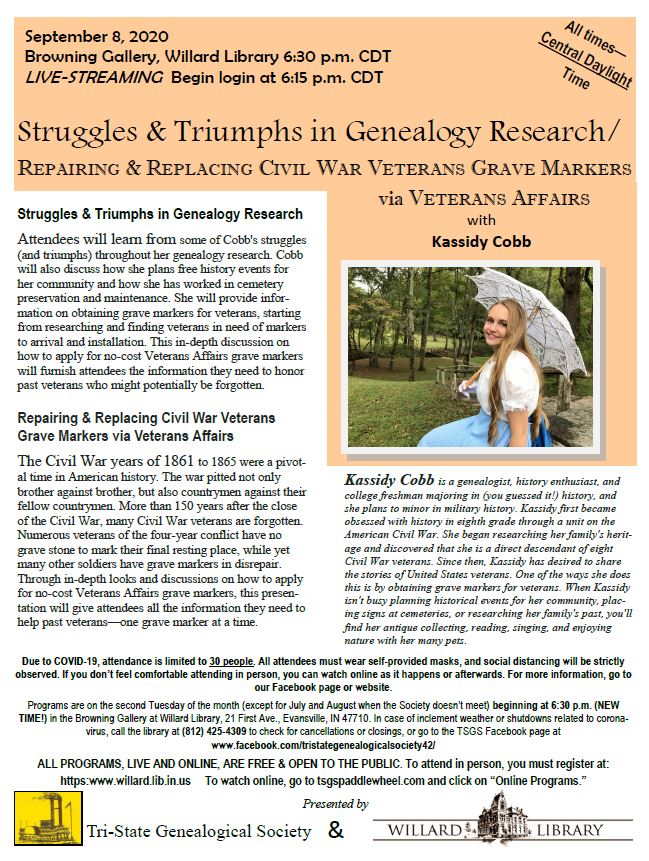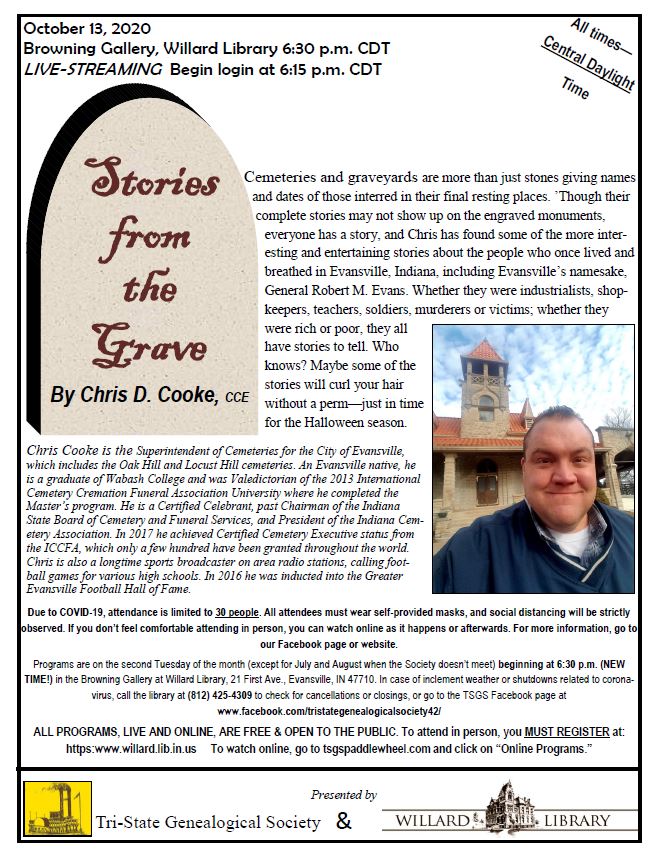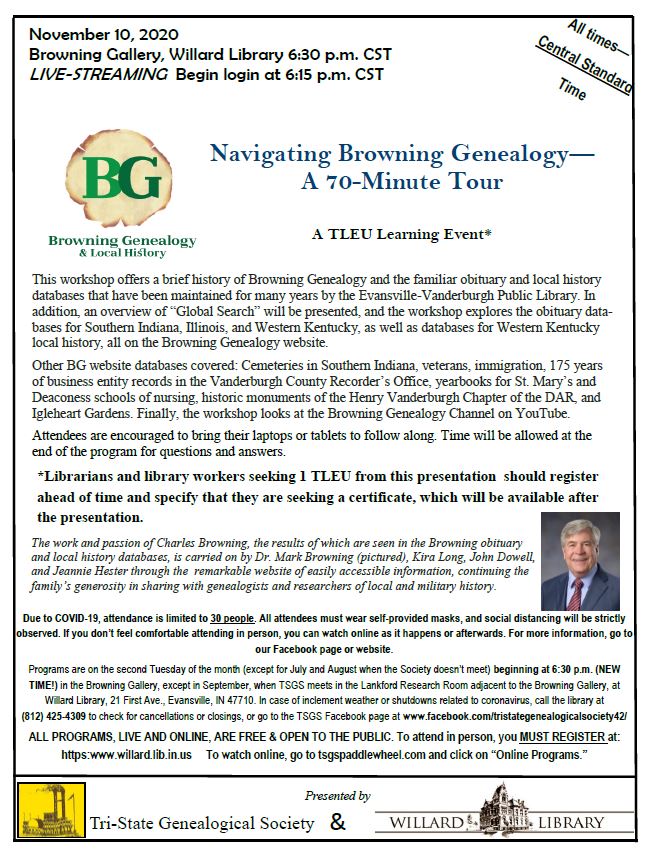 General meetings of the Tri-State Genealogical Society are held on the second Tuesday of the month at 6:30 p.m. in the Browning Gallery*, Willard Library, 21 First Ave., Evansville, IN 47710. Occasionally TSGS will present, or be part of, additional events at Willard Library taking place at other dates and times; those events, along with their respective dates and times, will be posted on this page.
In case of inclement weather, call the library at 812-425-4309 to check for cancellations, or go to the TSGS Facebook page at www.facebook.com/tristategenealogicalsociety42/ . All programs are free and open to the public. You may register at https:www.willard.lib.in.us/events/genealogy .