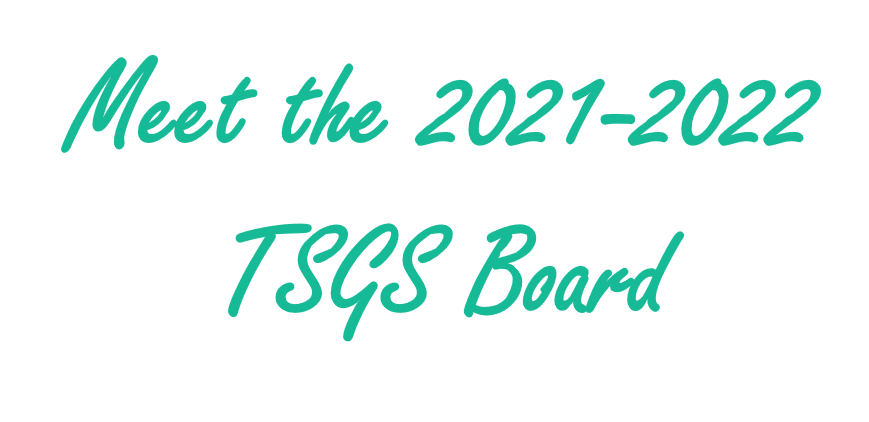 The 2021-2022 TSGS team encompasses individuals from a wide range of educational, genealogical, and historical backgrounds–a perfect blend to create content that is suited to researchers of multiple skill levels. The team of dedicated genealogists and historians is committed to providing materials that enhances your research, all while creating a community of genealogists from the tri-state area and beyond. Ready to learn more about the TSGS's board members? Then keep scrolling!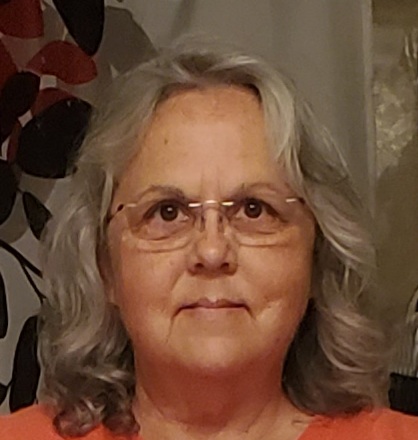 Meet Vannetta Ghormley McDowell, TSGS's President!
About Vannetta: I am in my 4th term as the President of the Tri State Genealogical Society. I have been a member since 2005. I joined the Society when I started working at Willard Library and have participated in supporting the Society in many different ways. I worked at Willard Library for 6 and half years. I really enjoyed working with all of the like-minded researchers that came to the library to research their family history.
While working at Willard I became interested in joining Societies that one could use their research findings to join. Currently I am a member of the Captain Henry Vanderburgh Daughters of the American Revolution, Senior Society President of the Evansville Society Children of the American Revolution, Ohio Valley Sons of the American Revolution Ladies Auxiliary, Registrar for the Hugh McGary Sr. 1812 Society, Treasurer of the Brig Gen Eli Huston Murray Chapter NSDU 1861-1865 and I have proven ancestors for the Indiana Pioneers.
Resources That Helped Vannetta Discover Her Family: I got the Genealogy research bug while working at the library. I learned the old way of researching from the older researchers that came in. Although there are many, many on-line resources, not everything is on the internet. The real genealogist knows there is nothing greater than the thrill of the hunt in the old courthouse archives and getting down in the dirt in an old cemetery. But what ever way you choose to research, document your findings, and share the knowledge with the next generation, so they can keep passing on the tradition of telling the stories of Grandma and Grandpa.
Vannetta's Most Stressful or Frustrating Genealogy Moment: Of course, we all wish that the 1890 census had never burnt up in the fire. But the most frustrating thing I have encountered is looking in the index of a roll of microfilm to find the book and page number and when I got that page, the film had a notation in it that document was unavailable.
Vannetta's Favorite Genealogy Moment(s): Serendipity moments are the greatest. The most rewarding feeling is when you are about to give up looking in the record books at the courthouse and something tells you to turn around and grab the red binder, stick your hand in and flip the book open to the very page that has the Great-Great Grandparents marriage you had given up looking for. Or to find that tombstone when you are all by yourself that you could not find when your husband was there. Score!!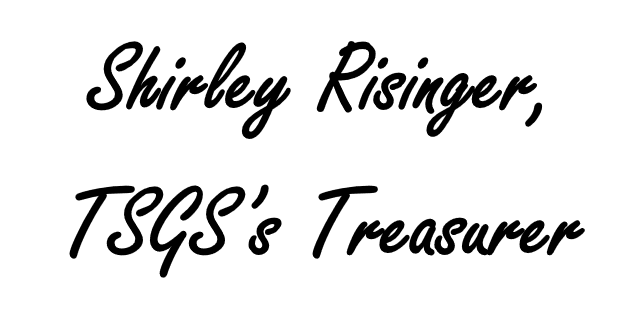 Meet Shirley Risinger, TSGS's Treasurer and Membership Chair!
About Shirley: I am originally from Evansville, Indiana, but have lived in numerous locations because my husband is a pastor. I have an Associate Degree in secretarial science from Bowling Green Junior College in Bowling Green, Kentucky. I am retired and enjoy doing genealogical research as well as sewing. I am a member of the Captain Henry Vanderburgh Chapter NSDAR (National Society Daughters of the American Revolution), Brig. General Eli Huston Murray NSDU (National Society Daughters of the Union 1861-1865), and the NSDOAF (National Society Descendants of American Farmers).
Resources That Helped Shirley Discover Her Family: I have mainly used Ancestry, Fold 3 and Family Search in doing research online. I also have done quite a bit of research using resources at the Logan County Genealogical Society in Russellville, Kentucky (Logan County). My dad and I also visited quite a few cemeteries in Muhlenberg, Logan, and Todd Counties in Kentucky. I photographed headstones so that I could do research on them later.
Shirley's Most Stressful or Frustrating Genealogy Moment(s): One thing that is very frustrating is that I can't seem to get any further back on my paternal side of the family than my second great-grandfather. It seems that quite a few people in that time frame decided to name their sons the same name. Sometimes the Census takers in the part of Kentucky and Tennessee that I have been searching only put the family members initials instead of their full name. This can be very confusing.
Shirley's Favorite Genealogy Moment(s): I think my most memorable moment was when I discovered that I have at least 3 ancestors that served in the American Revolution.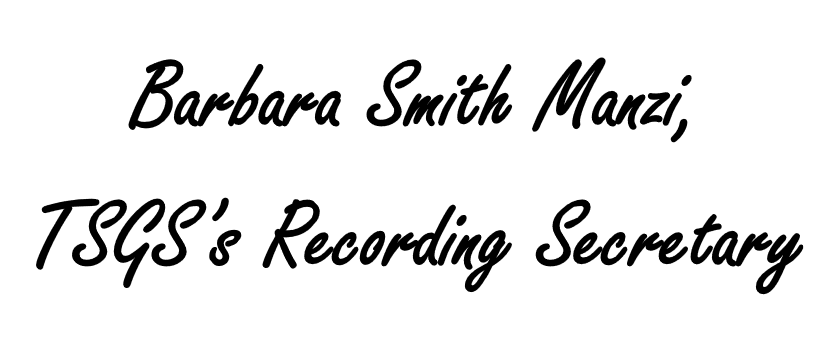 Meet Barbara Smith Manzi, TSGS's Recording Secretary!
About Barbara: I became interested in family research when I was age 15 & my great-aunt who lived in Chicago, had died. My mom pulled out a genealogy booklet from 1938 to show me the relationship. I went on to update this family line and researched many more over the years. I joined Tri-State Genealogical Society in the late 1970's and have served as Membership Chairman, Co-Chairman for Seminars, Surname File Chairman, Program Chairman and am currently Recording Secretary.
Barbara's Most Stressful or Frustrating Genealogy Moment: My heritage is mostly German with a little English, French and Irish mixed in, the Irish is the most challenging & intriguing, since so many records were lost nearly a hundred years ago.
Barbara's Favorite Genealogy Moment(s): What I find most satisfying, in genealogy, is helping others with their family research.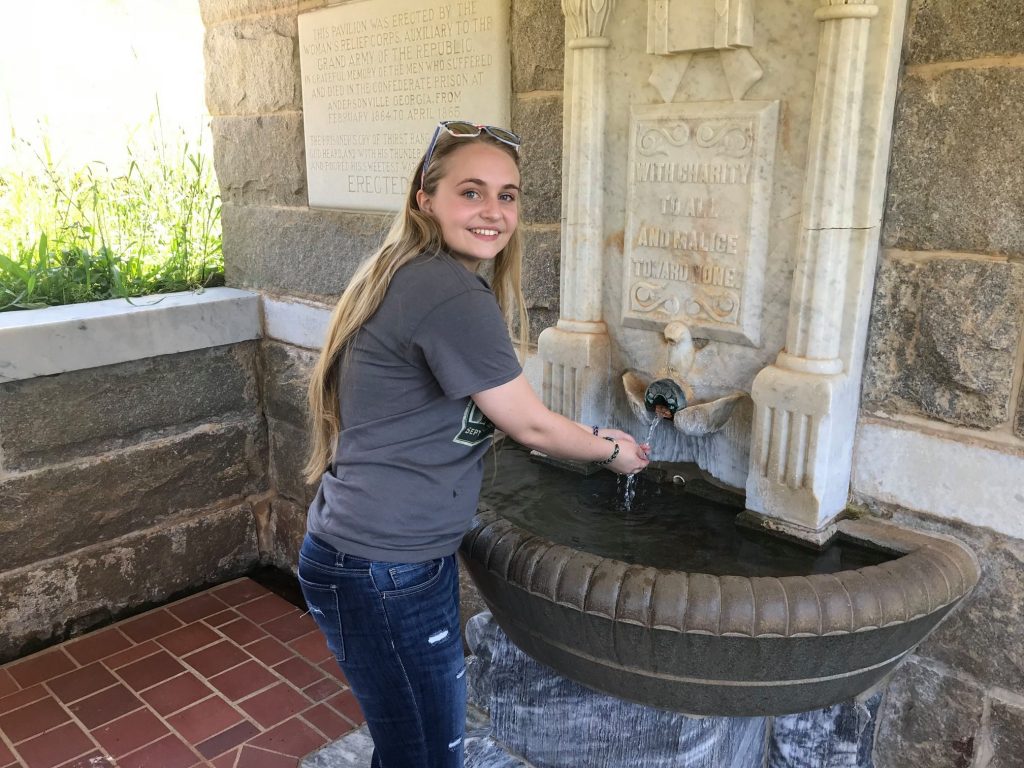 Meet Kassidy Cobb, TSGS's IT Coordinator!
About Kassidy: Kassidy Cobb is a genealogist, history enthusiast, and college sophomore who is majoring in—you guessed it!—history and minoring in creative writing. Kassidy first became obsessed with history in eighth grade through a unit on the American Civil War. She began researching her family's heritage and discovered that she is a direct descendant of eleven Civil War veterans, ranging from an "excellent soldier" and Andersonville Prisoner of War to a "patriotic Kentuckian" and United States Colored Troops soldier. Kassidy is passionate about sharing the stories of United States veterans, specifically those who fought in the Civil War. One of the ways she does this is by obtaining grave markers for veterans. To date, Kassidy's procured sixteen grave markers for veterans who served in conflicts ranging from the Revolutionary War to the Civil War. Most recipients of a new grave marker have also had a corresponding stone reveal ceremony, where Kassidy likes to invite organizations (like SAR, DAR, DUVCW, SUVCW, etc.), her community, and the descendants of the veteran to celebrate the life of the brave combatant. When Kassidy isn't busy planning historical events for her community, placing signs at cemeteries, decorating her ancestors' graves, or researching her family's past, you'll find her studying her Bible, reading, singing, spending way too much time antique shopping, and enjoying nature on her family's farm where pets outnumber people.
Resources That Helped Kassidy Discover Her Family: When I think of resources that helped me discover my family, it's hard to name just one! Throughout the course of my research, I've consulted dozens of genealogical sites, some of which are large—like Fold3 and Ancestry—and others that were smaller and based on contributions from other genealogists. Still, Fold3, as a historian/genealogist who places a big focus on military history, has helped immensely. Through Fold3, I've been able to uncover information about my ancestors that I wouldn't have been able to discover in a census. Even so, I have to give Ancestry and FamilySearch lots of credit, too…their massive collections of marriage records, censuses, death certificates, and more has allowed me to make family connections and find ancestors that I'd never heard of, some of which are buried literally minutes from my house!
I've also been sure to talk with older family members who have first-hand stories of my ancestors. This way, I've found out personal characteristics and traits about family members that I would have no way of discovering via censuses and other records. I've also researched my Civil War grandfathers' regiments, and studied some of their comrades, so that I gain a more complete overview of their experience in the war. Learning about battles they fought in via National Park Service or American Battlefield Trust, for example, has also helped me find more information about the experiences my grandfathers endured.
Kassidy's Most Stressful or Frustrating Genealogy Moment: If you've been doing genealogy for years, you'll know what I mean when I say— "There have been many stressful or frustrating moments in my genealogical journey." For example, one of my grandfathers, Alexander Farris, was one of three men by that name who lived in the same area, at the same time. While I've tried to use probates, wills, and Revolutionary War pensions to find my Alexander Farris, I still haven't been able to do so yet. Thus, the search continues!
Even though that was challenging, probably the most confusing, stressful, and frustrating genealogy moment has been in the case of my grandfather, John Alexander Blaine. A soldier of the 57th United States Colored Troops according to pension records, John was listed as a Caucasian in marriage records and throughout decades of censuses. However, if he was indeed white, he wouldn't be serving as an enlisted man in an African American regiment. Did he try to hide his race in order to live an easier life, then decided to abandon pretenses when the Civil War erupted? I'm still not sure, and John Blaine remains a mystery to me…even to this day!
Kassidy's Favorite Genealogy Moment(s): Even though I've had my fair share of upsetting moments while doing genealogy, I've had tons of favorite moments, too! One of my happiest genealogy moments was when I first began genealogy several years ago. I discovered that one of my grandfathers, Darius Skipworth, served as a sergeant in Company B of the 11th Kentucky Infantry, a Union regiment during the Civil War. Buried in a family cemetery, Darius's grave marker dating back to 1863 (he died in the line of service due to disease) was in horrible condition. I was able to order him and his Civil War veteran son, Henry, a new grave marker through Veterans Affairs. Darius's stone reveal ceremony, with many of his descendants present, was the first event I ever hosted…and therefore extra special. Another favorite moment was when, using Fold3, I discovered a record written by Darius's captain that listed my grandfather as an "excellent soldier." Finding Darius's signature was really special too, since I now know what his handwriting looks like.
I know every researcher is probably biased toward their ancestors (guilty!), but I was ecstatic when I found out that my grandfather Joseph Stewart Carneal, a sergeant in the 25th and later 17th Kentucky Infantry, was a "patriotic Kentuckian" according to his discharge certificate. An added bonus of finding his discharge certificate on Fold3 was that I found out he was present at the Battle of Shiloh where, even though he was sick with tuberculosis, he still fought for his country, an action I deem very courageous and admirable. Ultimately, though, fighting caused Joseph to become "prostrated" and he was discharged from service. With the assistance of Veterans Affairs, I was able to get my grandfather a new grave marker to replace his old one, which was nearly illegible and also broken.
My most recent favorite moment actually happened earlier this year. There were some adoption issues in my family, which resulted in a family line I was unable to research. However, after unearthing a bit more information, that part of the family was searchable! It took a few days as I looked through lots of censuses, marriage records, and death certificates in order to take the family line back as far as I possibly could. While doing research, I discovered that one of my grandfathers is Jesse Christmas, a soldier in the 11th Kentucky Infantry who fought at Shiloh, was held in reserve at Perryville, and served at Stones River before being captured by Confederates in October 1863. He was likely held at Belle Isle in Richmond, Virginia. (As an aside, most of my family served in the 11th Kentucky Infantry, making the regiment extra special!) Arriving at Andersonville Prison (or Camp Sumpter) in February 1864, Jesse was actually one of the first Federal soldiers confined in the prison. He perished there in May 1864—due to disease—and is buried at the National Cemetery. I had actually visited Andersonville in 2019, and it was one of my favorite historical sites. November 2021 I took a trip to Andersonville National Historic Site and had the opportunity to see my grandfather's grave. It was a touching experience!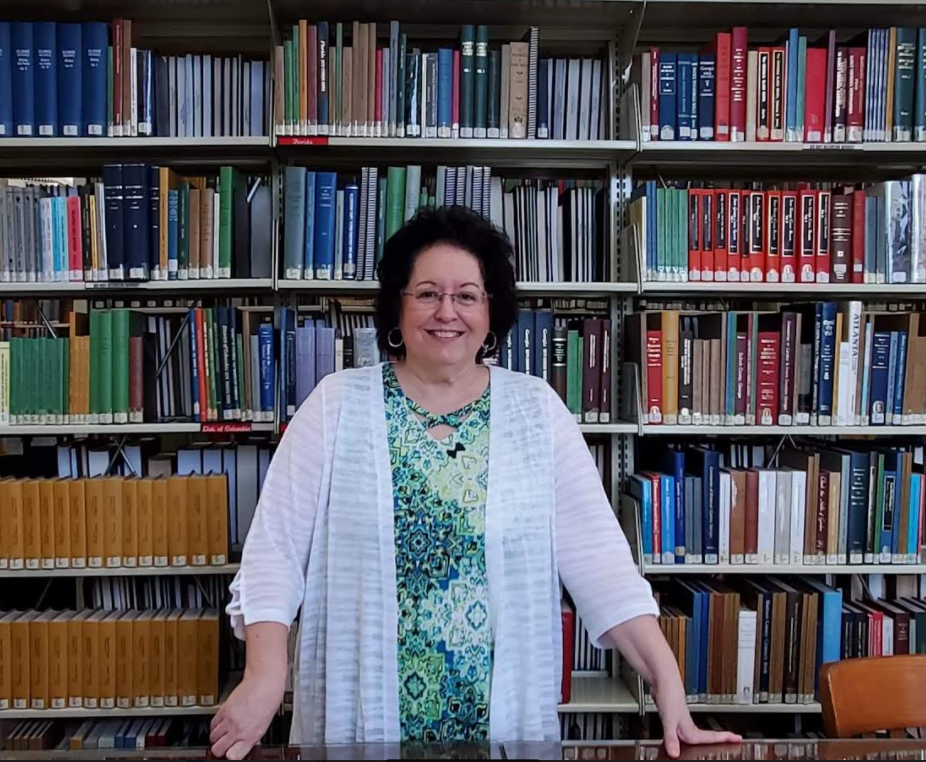 Meet Kim Smith Van Vorst, TSGS's Board Member!
About Kim: I am from Evansville and lived here my whole life. I've been a piano teacher for over 30 years, and I'm also a church musician at Christian Fellowship Church. In my free time I love to be with family, scrapbook, and of course, continue working on my family history.
Resources That Helped Kim Discover Her Family: I had a cousin about 40 years ago, who helped me in getting started on my family tree. After that I was hooked. Some things I've done to get more information is talk to the oldest relatives in my family, use Family Tree Maker program to keep track of my information and sources, sync my tree to Ancestry to get more clues, connect family on Find A Grave to get other relatives involved, visit cemeteries and courthouses, start a Facebook group for cousins and share information with them, many times they'll share pictures and obituaries and stories with you, too.
Kim's Most Stressful or Frustrating Genealogy Moment: My brick wall of my second great grandfather and finding his parents. I thought when I found his marriage license in Warrick County, Indiana, it would have his parents names there, but the page with the parents names was missing. Also, in his Civil War pension file, he never mentioned his parents or any siblings. The other frustrating part of it is his last, O'Bryan, which is spelled about 400 different ways. I'll never give up on trying to solve this brick wall!
Kim's Favorite Genealogy Moment(s): Finding my Dad and Mom in their first census, getting pension files of my great great grandfathers that fought in the Civil War, finding where my third great grandparents are buried and seeing their gravestone for the first time.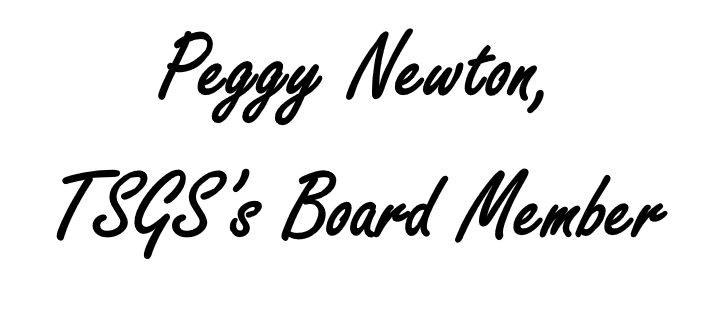 Meet Peggy K. Newton, TSGS's Board Member!
About Peggy: Peggy, who answers to Peg, Peggy, or just about anything, was born and raised in Evansville, Indiana, and currently lives less than a mile from where she was born. She is a proud graduate of Harrison High School and holds a Bachelor's degree in Communications from University of Southern Indiana (USI). She's proud of USI as well, like a mother who has seen her children grown up, all on their own and prospering.
She was editor of The Shield, the USI campus newspaper, and contributed poetry to the university's literary journal. She has worked as a typesetter, proofreader, editor, copywriter, copy editor, writer/photographer, graphic artist (sometimes all at the same time); and as archives assistant and library assistant at Evansville's Willard Library (not at the same time). In addition, she has taught Beginning Genealogy at EVSC and Ivy Tech. She has written and published two books, writes monthly for Maturity Journal, and has several books in various stages of writing, editing, and prep-for-publication.
She is a member of TSGS and served as editor of The Packet as well as IT-Coordinator for the TSGS website. She is single and semi-retired, but not dead.
Resources That Helped Peggy Discover Her Family: Willard Library was the first place Peg went to after she grilled her parents, grandmother, and various other relatives for information on and photographs of her family lineage. This was back in 1981 during the Paleo-Computerization Age, when handcranked microfilm readers were the latest in technology and Willard Library's collection amounted to about 30 books and 5 microfilms, and had no computers to speak of. Maybe she exaggerates but not by much. To educate herself on genealogy in general and by locations, as well as keeping up with the rapidly developing trends in genealogy, she attended state conferences in Frankfort, KY, and Indianapolis, IN, and county or regional conferences in Owensboro, KY, Paducah, KY, Carterville, IL, and Vincennes, IN. She has attended an FGS conference in St. Louis.
Two of the most valuable resources were a husband-wife team who lived in Philadelphia; the husband was in the Army with Peggy's father during WWII. The couple, Jake and Tsiporah Strauss, drove to the adjacent Bucks County where they obtained will and probate records that proved invaluable to Peggy's Newton research. Peggy owes a debt of gratitude to that kind, wonderful couple. She hopes they have met up with her parents along with the rest of the band of brothers (and wives) of the 338th Engineers at that grand Army reunion Somewhere.
Peggy's Most Stressful or Frustrating Genealogy Moment: She has been frustrated and stressed out for a number of years, and continues to be, regarding her Newton and Riddle lines. On the Newton line she is stuck in Bucks Co., Pennsylvania in 1738 when Robert Newton (father of the Revolutionary) purchased land. She is stuck in Franklin Co., later Williamson Co., IL in 1831, and hasn't found a satisfactory escape from either location.
She believes her Newton line is Scots-Irish because Robert the landowner and Jane Brooks were married by a Presbyterian minister from Philadelphia. (Robert the Revolutionary's youngest daughter was named Jane.)
Although she knows her great-great-grandfather Henry F. Riddle was born in Franklin/Williamson Co., IL, she has reason to believe that his family left Illinois and lived for a time somewhere in Tennessee. They possibly returned to Illinois after the death of Henry's father, who can only be identified as ? There is a strong possibility that his name was Benjamin Franklin Riddle but she'd like to see more convincing documentation, which may or may not exist.
Peggy's Favorite Genealogy Moment(s):
Finding her Revolutionary ancestor, Robert Newton, was a definite highlight, along with visiting one of the places where he marched to in South Carolina, which made her father doubly proud because he shared his ancestor's first name.
Not necessarily sure if it's a favorite, but discovering that she is her own 6th cousin was a startling moment. Both her dad and mom were descended from the same Revolutionary Robert Newton.
Locating the biological father of a close relative, which had been a 75-year-old mystery.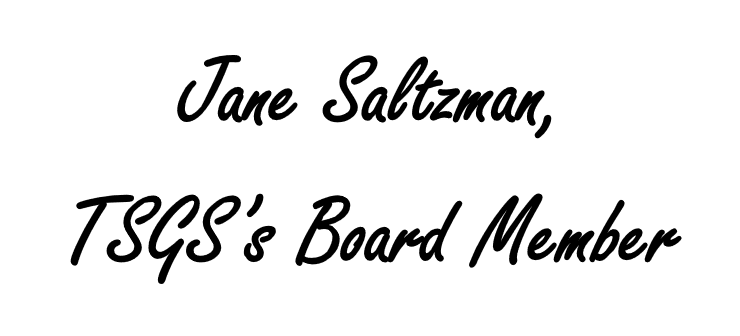 Meet Jane Saltzman, TSGS's Board Member!
About Jane: I'm a retired Medical Librarian, Education from Indiana State University and University of Evansville.
I am a volunteer-Not only on the Board of TSGS, but also Vice-President and Collections Chair of the Posey County Historical Society, and Trustee and Secretary of the Old Beech Cemetery (Posey County). The reason I volunteer: I had so many wonderful volunteers in my Library, I wanted to be that reliable person giving my free time to worthy organizations after retirement. I have been a volunteer for close to 12 years.
Personal time is spent with family, traveling, reading, and decluttering (ugh).
Resources That Helped Jane Discover Her Family: My husband was the influence behind the genealogy bug. His cousin, her husband, my husband and I would visit cemeteries when they were down from Springfield, IL. The more we 'dug' the more interested I became. I've worked on my mother's side, my husband's mother and dad's side and now another cousin (on my dad's side) is writing the History of the Yunker/Juncker Family, from the first immigrant to the United States forward. It has been a labor of love for six years; we are hoping to complete it this year (currently has over 650 pages-hoping to condense pages). Resources have included oral histories, many databases including World Ancestry, Fold 3, military databases, documents from various County courthouses, Health Departments, and Land Records.
Jane's Most Stressful or Frustrating Genealogy Moment: Last name spelling, one way in Germany, name changed after arriving. So far, I think we've found 6 different ways it was spelled. Yes, the 1890 census; search trip to another state/county and not finding verified information given by family members.
Jane's Favorite Genealogy Moment(s): Finding our German ancestors documents with their hand writing, beautiful and readable.